Working parents are always going to have to be one step ahead of the game when it comes to flexibility.
Recently, we have been hit with the cry-fecta of being asked to work productively from home, take care of kids AND in some cases, educate & replace the education system.
This is a huge challenge for even the most agile, resilient and resourceful among us. So it was no surprise to hear from so many of you last week, that your week has been chaos.
So how do we move to a better place? Out of crisis and into sustained management? 
We are so proud to announce the release of this resource – an online course that provides working parents of Grace Papers' partners with a step-by-step guide on how to work from home with kids – plus a whole lot of other useful stuff we'll need to know right now to thrive, not just survive in these unprecedented conditions.
The course offers the below three key modules and can be done in 45-minutes start-to-end or in bite-size pieces over three weeks – depending on the particular brand of chaos at your helm.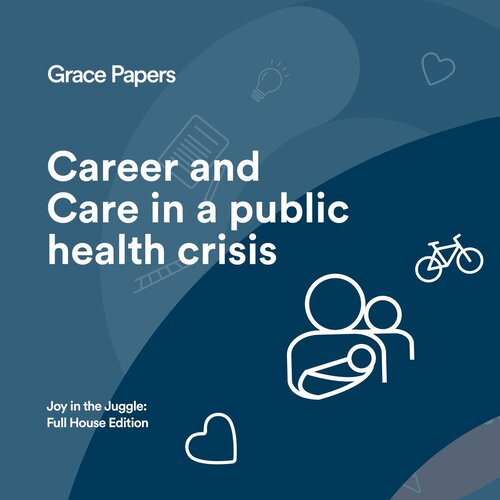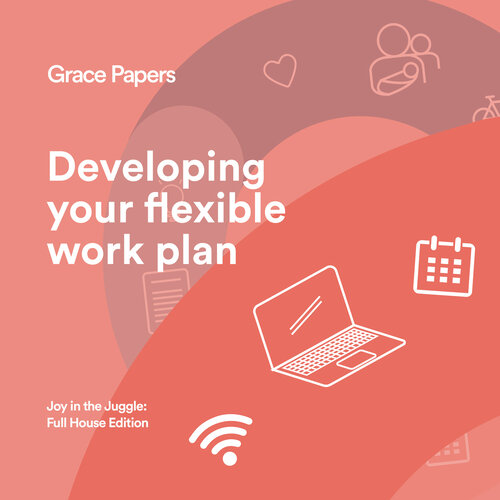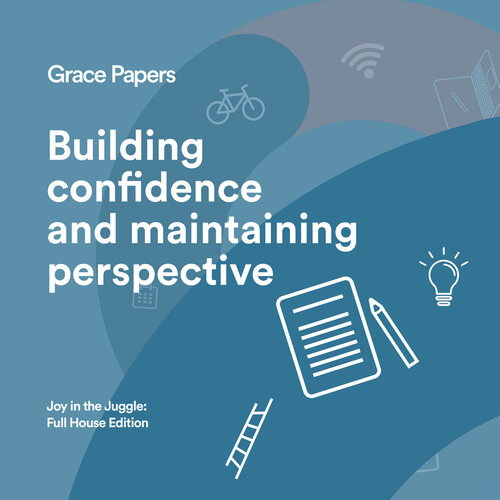 The course is available to all current Grace Papers users and anyone who works for a partner of Grace Papers. Login or Register here.
We tried it first. 
Importantly, what we've created, was first created for our workplace. Each team member at Grace Papers used this course, which follows our tried and trusted empowerment framework, to help us maintain humour, connection and a semblance of control over our destiny for this period.
Currently Joy in the Juggle: Full House Edition is only available to those currently registered to The Grace Papers Platform or those employed by one of our partners. However, I did the course last week, and I've shared some of my favourite takeaways for everyone below:
The Gilbert Family lockdown vision
My family recently piloted the course, to see if creating a family vision for our life in lockdown might empower us to feel more in control and positive. 
We got way more than we bargained for.
Our course vision for our life in lockdown informs an effective and calming new rhythm for our days. We are now empowered to make decisions centred around 'family rituals of connection' and 'career priorities' – because family and security were two of the values most important to us.
Through the course, we were able to ideate and negotiate key family principals. For example, Ben and I (the parents in the family) wanted to introduce a daily siesta – and the kids agreed on the proviso that a 90 minute siesta would buy them 90 minutes of technology! In response, Ben and I agreed to learn to tiktok dances (OMG!), and the kids are responsible for vacuuming their rooms.
What we learned through the process was that timetables will not work for our family, that neither Ben nor I can replace the education system, and that to feel the freedoms we are accustomed to living with, we all need control over some of the choices we get to make each day.
Practically, therefore, our new rhythm integrates rituals that are most important to us, and that will also set boundaries as to where work and play end for us:
health | learning |work | connection | play | chores | siesta
Each category has a list of activities. And we have one parent dedicated 'supervisor' at different stages throughout the day.
My course-inspired top tips for working from home… With kids
1. Create a family vision: In everything we do, a clear vision will do the heavy lifting for you.  The one thing that will make the difference between thriving and surviving is whether you have taken the time to sit down and negotiate the boundaries, and figured out how to support each other and expand your social world whilst practising self isolation.
2. Make your partner a real partner: Have a plan in place as to how you will balance childcare if/ when your children's schools or early learning centres close. Discuss how you will support each other whilst working from home, so that you both meet work targets.
3. Don't try to replace the education system: For most of us, it's impossible, so if timetables aren't working do away with them and keep it simple and aligned to your family vision.
4. Name your fears and share them with your partner if you have one: Rank out of 100 the percentage of energy you have in your tank for parenting and hatch a plan for when it all feels too much.
5. Reframe kid interruptions as "love bites," and don't apologise for them: Rather, gift them to your colleagues. You're a working parent – of course you can listen and take notes and snuggle a toddler on your lap at once!
6. Siesta: The Europeans have this one sorted. Let your kids stay up later (family movie night every night!) and mandate the afternoon siesta!
7. Set boundaries: The trap with working from home is that your personal and work life can merge. It's important to retain clear parameters around your workday, even if you are sending emails from the kitchen table. Consider silencing any work related notifications during your non-work periods. Set clear expectations with your manager and colleagues that you are not going to be 'online' at specific times – and stick to that commitment by making a commitment to your family rituals of connection.
8. Finally, Register for the course: If your employer is a Grace Papers partner you can register here. If you are already enrolled in our platform – the course will be automatically available on your dashboard.
We hope these tips, and indeed the course, adds value to your routine and wellbeing at this time.
With love and lots of elbow taps